Every morning is punctuated by a habit, a certain breakfast routine at home. I get up, I prepare my coffee, my fruit and here I am ready to face my day! Contrary to what our neighbors across the Atlantic may think, the French do not all eat a croissant every morning. More and more people are even paying close attention to what they eat at the first meal of the day. And when the opportunity is given to us to have breakfast outside, the question arises: where to find a healthy breakfast in Paris ? We will even add a good breakfast 😉
Where to have a good breakfast in Paris ?
First of all come to mind the Parisian cafés. View of the bustling city, bread with butter and jam, and the friendly atmosphere of the brasserie or restaurant. Have you ever thought about having breakfast in a hotel? Even without staying there?
Having breakfast in a hotel
It is true that this is not the first place you think of for breakfast. A drink after work, a coffee in the afternoon yes, but not breakfast. However, if there is a place where you take care of your breakfast, it is in a hotel. Here, customers sleep, rest, work and leave in the morning with a good Parisian breakfast in their stomachs.
What are the advantages of having breakfast in a hotel?
The setting: the establishments always offer a pretty decor, a discreet setting and a cozy atmosphere for breakfast, especially from the 3-star classification.
Quiet: have you ever noticed that hotel breakfast rooms are rarely noisy? Customers take their breakfast in peace and have a good time, what a sweet way to start the day!
The buffet: unlike Parisian cafés, almost all hotels offer table service combined with a buffet. You will thus have access to a much more complete formula and you will easily find what you are looking for among the choices offered.
Quality products at breakfast: hoteliers pamper their customers, and the quality is often there. Find out in advance about the reviews of the target hotel. This is a good indicator to know the quality of the products offered. Also check with the hotel to find out if the composition of the buffet suits you: dairy products, gluten-free products, refined products, etc.
Quality service: quality service, at the table, by hotel employees. That makes all the difference.
Breakfast in the room
If you are staying in a Parisian hotel, and at the Hotel des 2 Continents, you will probably have the choice of having your Parisian breakfast in your room. This is a significant luxury. Not having to get ready to go down to the dining room, enjoy your breakfast when you wake up, get served… This is part of the relaxing stay. Do you remember the last time someone brought you breakfast in bed… It's time to start over!
Why having a healthy breakfast ?
The trend of the moment is healthy, healthy, detox breakfast. But who is this trend for and why does it exist?
A medical diet
In this case, we forget the trend and remember that some diets banish sugar and fat. So for a lambda breakfast, it may seem quite complicated. There are still recipes and ways to get around the usual sugars and fats. It is even very interesting to discover new ways of cooking your favorite recipes by replacing traditional ingredients with coconut sugar for example, zucchini in a cake, etc… Another way of approaching cooking while continuing to s good times around delicious meals.
Mens sana in corpore sano : a healthy mind in a healthy body
You may simply be looking for a balanced menu from the first to the last meal of the day. Your body feels listened to, liberated and everyone knows it, when the stomach is doing well, the mind too. Easier to start the day with a varied breakfast, greedy but not too heavy!
Detox morning
We have all woken up and been hungry while thinking about the excesses of the night before. It must be said that they remember us quite easily! Thus, a little detox juice, lemon tea and muesli will do the trick perfectly. To renew the next day or the day after if we really need it 🙂 A healthy break for the body with fresh and seasonal products can only do it good.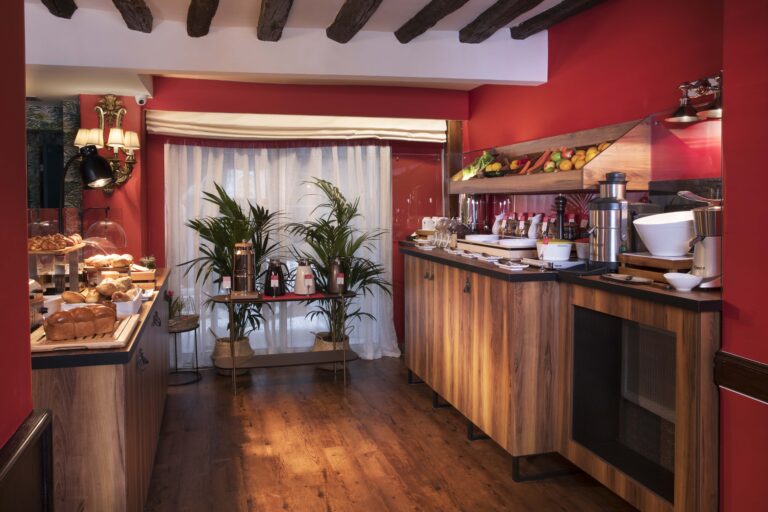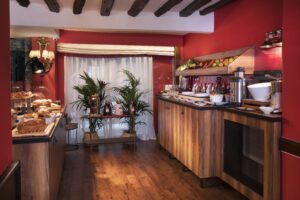 A good healthy address in Paris
But then, where are you going to find a good healthy address in the heart of Paris? Well at the Hotel des 2 Continents, in the heart of Saint-Germain-des-Prés!
Healthy breakfast in Paris : at the Hotel des 2 Continents
In the peaceful rue Jacob, a stone's throw from the Saint-Germain-des-Prés church, is the Hotel des 2 Continents, a charming 3-star establishment. It offers breakfast-included rates and a sweet and savory buffet for all served Monday to Sunday between 7:00 a.m. and 11:00 a.m. No brunch but served until 11:00 a.m.
Do you want a healthy breakfast ? Compose your own healthy recipes from our buffet. Here is a menu that will save you from processed sugars:
Pressed seasonal fruit and vegetable juice or pressed orange juice
Hot drinks with a selection of quality teas or coffee
Fresh seasonal fruits, cottage cheese, compote
Prepare your homemade granola with our 0% cottage cheese, red fruit coulis, seasonal fruit base and whole grains
Whole wheat bread
Maple syrup or honey
And for those who want a less healthy breakfast?
We reassure those accompanying healthy breakfast enthusiasts. On our buffet, you will also find:
Scrambled eggs and bacon
Breads, pastries and pancakes
Charcuterie and cheeses
Homemade hot chocolate
At the Hotel des 2 Continents, there is something for everyone!
Ideas for a healthy stay in Paris
To go further in the process, why not consider a healthy stay?
You book your classic room at the Hotel des 2 Continents. These rooms are the only ones not serviced by a lift. Thus, you will use the staircase several times during the day. In the morning, take short strides in the Luxembourg Garden or the Tuileries Garden. After your run, enjoy a healthy breakfast in our charming room on the ground floor. Finally, visit Paris without using public transport, have lunch on the terrace in one of the many healthy canteen brands in the French capital and take your snack break in a juice bar! Favorite for Açaï & You, rue de Maubeuge in the 9th arrondissement. Acai bowls and delicious brunches in a colorful setting and a friendly atmosphere!
See you very soon for your stay with healthy breakfast in Paris 😀