BREAKFAST IN PARIS
Prices: 15 € – Children under 12 years: 8 €
Because breakfast will set the tone of your day, we invite you to enjoy it between 7.00 A.M and 11.00 A.M in our typically Parisian breakfast room or in your room.The buffet is full of nice surprises, sweet and salty with tasty croissants…
The Buffet is composed:
Hot drinks (tea, coffee, hot chocolat), orange and apple juice, baguettes, special breads and pastries, crepess, scrambled eggs, bacon or sausages , salami, fresh fruits, soy milk, cheese, cereals and much more...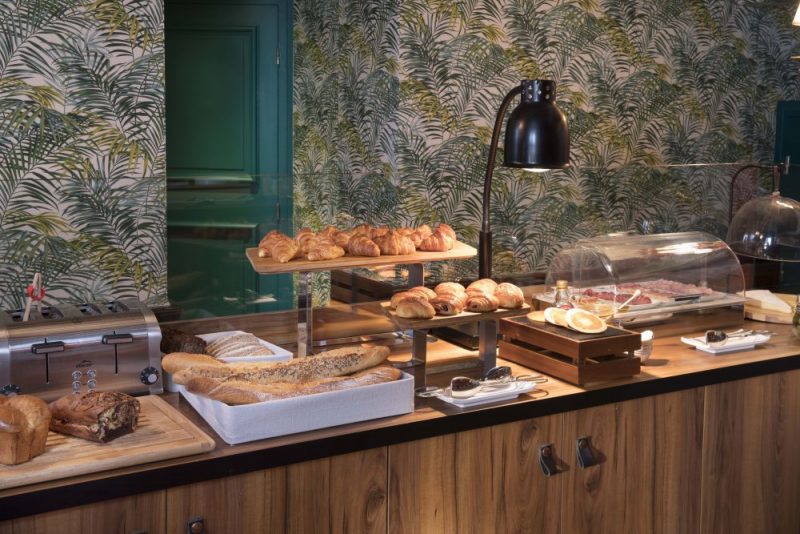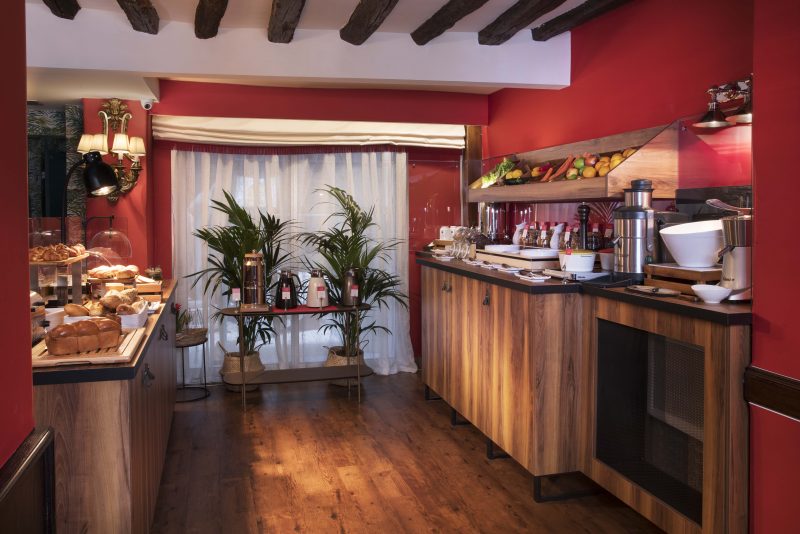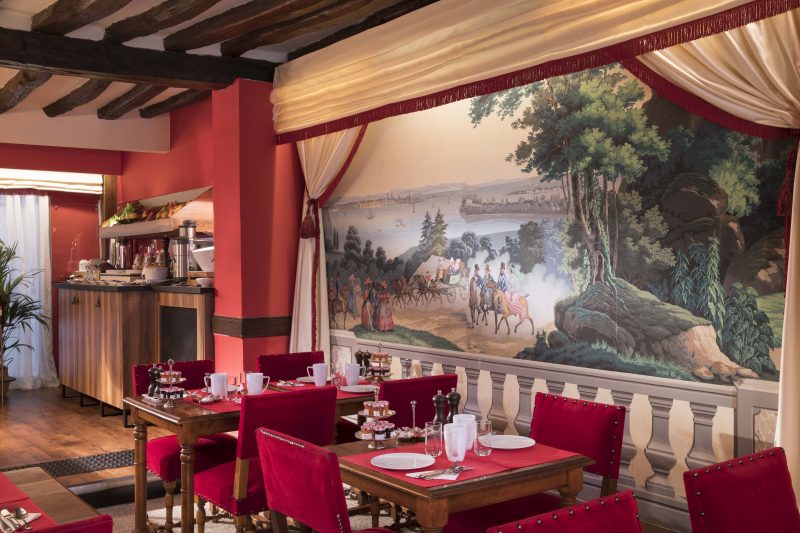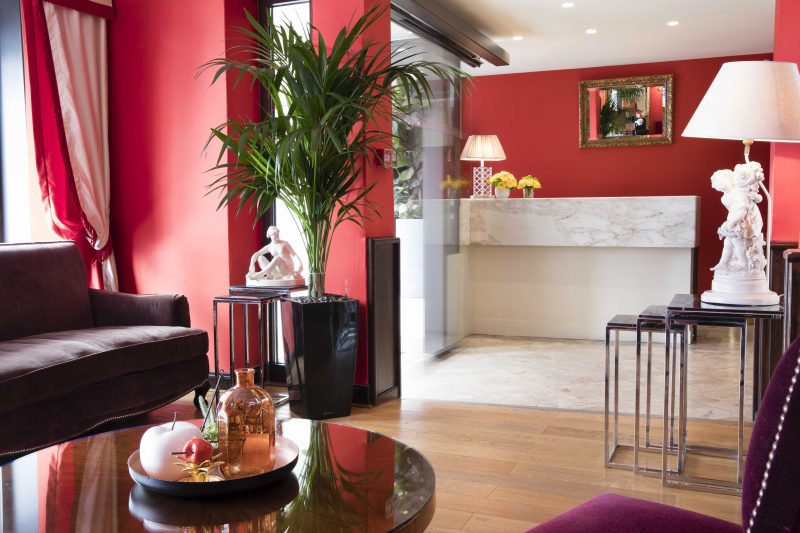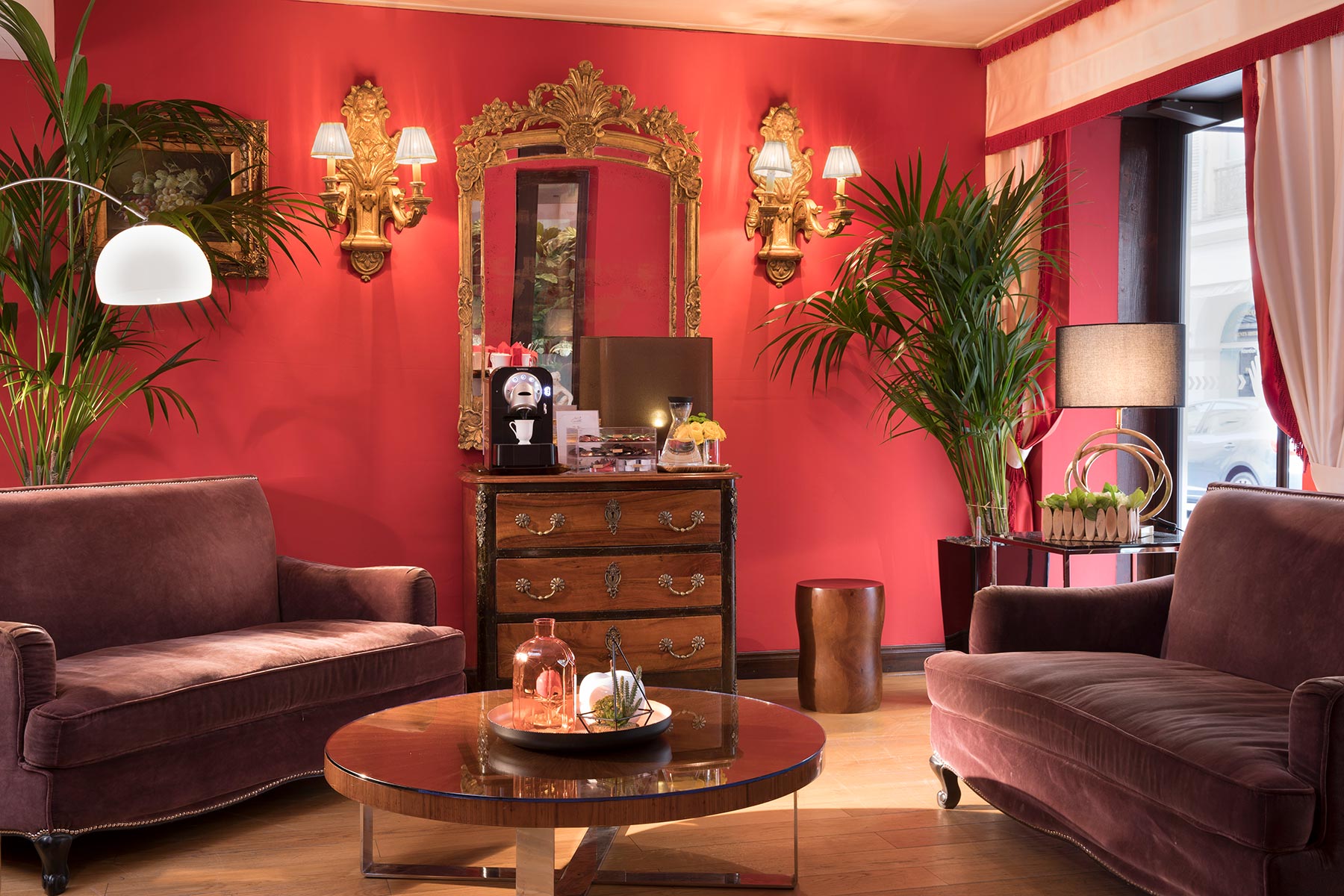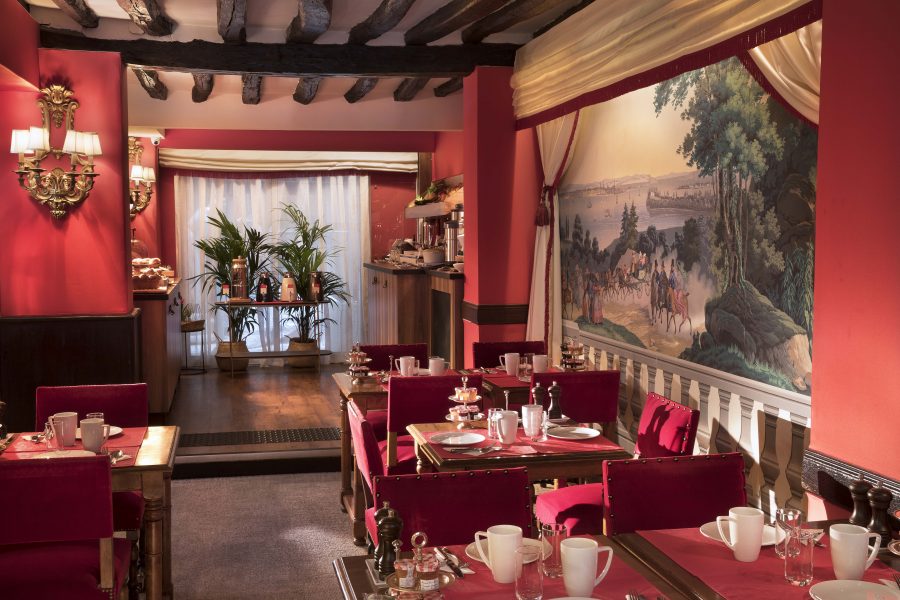 THE HOTEL'S SUITES
Our sitting room inspires an air of relaxation and tranquillity to travelers.
Hôtel Des Deux Continents understands how to combine the needs of the 21st century with the aesthetic elegance of the Paris of yesterday. The marble of the reception area also covers the beams of the breakfast suite while mirrors and gilding illuminates every space.
After a day of visiting the French capital, sit down on a sofa, choose one of the newspapers provided and enjoy … Should you wish to print off your plane tickets, you can ask assistance to our lovely reception team. Lastly, do not hesitate to call by reception for a delicious espresso or a nice hot tea when it's freezing cold outside.
SERVICES
There is free Wi-Fi access throughout the hotel.
Hôtel Des Deux Continents is a completely non-smoking establishment.
The hotel offers hot and cold drinks, please ask reception.
Newspapers (Figaro and New York Times) are available every morning from the reception area.
A laundry service is offered from Monday to Saturday, with same-day returns for clothes delivered before 10:00 at reception.
An iron and ironing board are available upon request. Please contact reception.
Because we love babies, we offer all the equipment you might need : baby bed and linen, changing mat, baby bottle warmer, high chair.
BEVERAGE MENU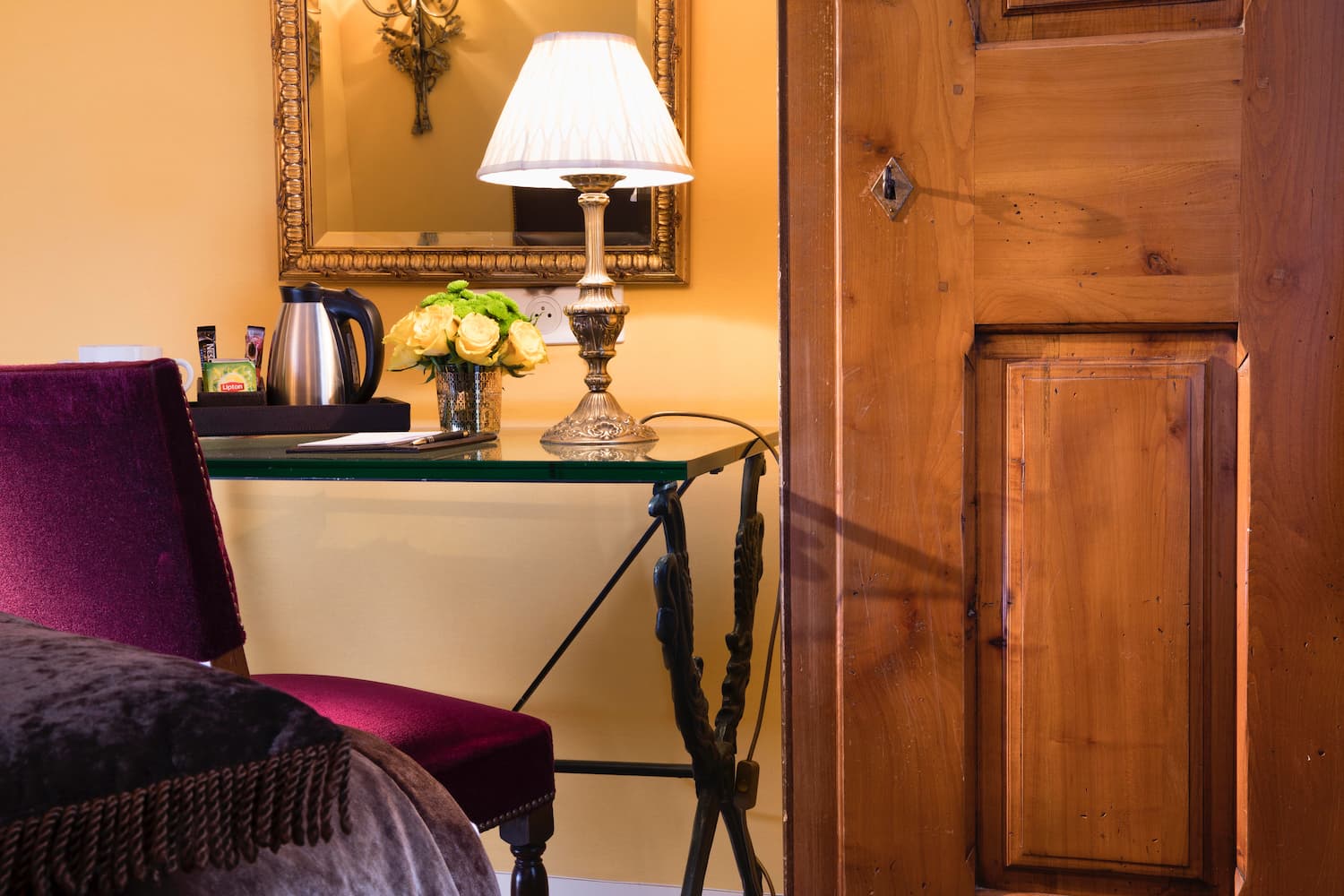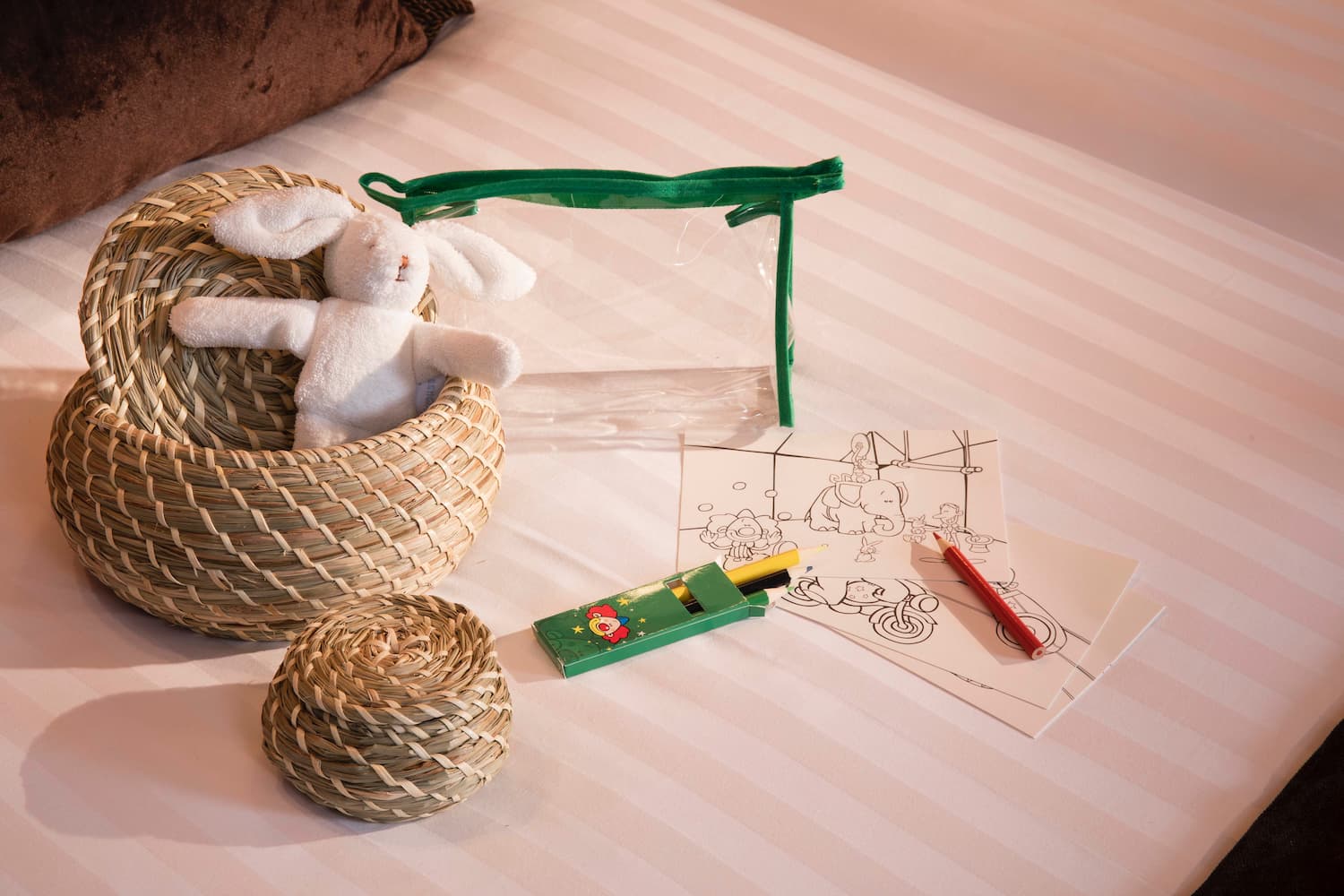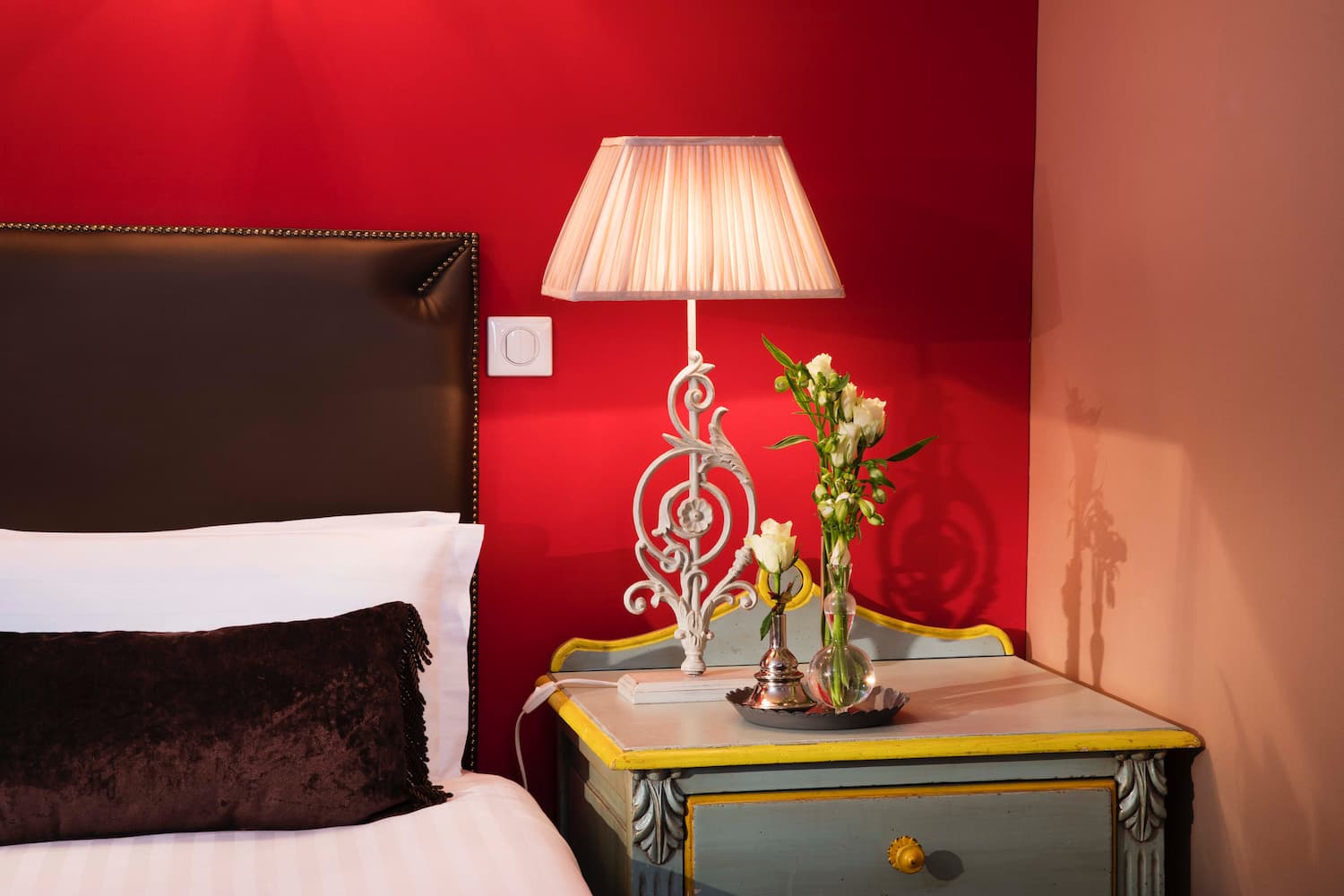 BOOK A HOTEL IN PARIS IN SAINT-GERMAIN-DES-PRES
Staying in Paris must be an unforgettable experience. Before living that amazing trip, you will need to plan it. To choose the area, the hotel … As we love Paris, and the 6th arrondissement, we will assist your in your organization and give you some tips to plan the best trip to Paris ! Let's fallow the guide …
Read more
Is it better to book a hotel or an apartment in Paris ?
Paris is a wonderful city for vacation. First of all, you may ask yourself the following questions : what is the most interesting ? Booking a hotel or an apartment for my vacation rentals in Paris ? You should just check the following points :
If you like to cook your own meal every day ==> book an apartment
if you want to live like a Parisian who goes to the laundry mat and the grocery store ==> book an apartement
If you like been pampered ==> book a hotel
If you do not intend to clean your room and cook your meal ==> book a hotel
If you like talking about your day in Paris and ask some recommendations ==> book a hotel
In conclusion, you have to ask yourself what kind of vacation you entend to have. If you plan to seize the day without your daily routine, the hotel is the good choice. Enjoying the city, not having to buy food, thinking of the next recipe to cook, doing the dishes, or vacuuming …
In a hotel you just need to think of yourself. You wake up, take your time to have breakfast and then look at the weather forecast to go outside and decide what to do. Will you visit a museum or just stroll in the paved streets ? Then a good question, what to eat ? Restaurant, terrace, brasserie, … The hardest is to choose. At night, after a long day in Paris and maybe a long evening, you just have to take a shower and have a rest in a comfortable bed. What else means vacation ?
Where to book a hotel in Paris ?
Now you know you will book a Paris hotel for your next stay in the French Capital. You have to choose the area.
First of all, you have to know that it is very easy to move in Paris. Metro, bus, taxi, bike, you will cross the city very quickly and if you like to walk, be sure that is it the best way to enjoy the city. By walking, you will discover the secrets of Paris, like hidden courtyards, old massive doors, quiet squares, …
Business trip to Paris
For a business trip to Paris, you will know exactly where you have to stay. Close the train station and to your meeting place, or near the meeting point (16th arrondissement, Avenue Montaigne…) and on your way to the airport (CDG airport or Orly). It will be easier to find the most interesting area. Usually the center of Paris is an excellent choice as there are many public transports and a lively atmosphere to enjoy the end of the day after your work.
Tourism in Paris
If you entend to visit Paris for the first time or not, you will need to access easily to the main touristic attractions, but you will also wish to have good restaurants around the hotel, a large shopping street, nice places to have a walk for example. The very center of Paris is perfect to visit the city.
Saint-Germain-des-Prés, in the 6th arrondissement.
Saint-Germain-des-Prés is the best area for a stay in Paris. It is central, lively and has a vibrant Parisian soul that even Parisians love. How to access to Saint-Germain-des-Prés ?
From airports (Charles de Gaulle airport or Orly) : RER B until Saint-Michel-Notre-Dame and then metro line 4 for 2 stations
From train stations : metro line 4 direct from Gare du Nord, Gare de l'Est and Montparnasse, metro line 10 direct from Gare d'Austerlitz. Bus 63 from Paris Gare de Lyon.
Saint-Germain-des-Prés is well known for literature, art and music. Jazz bars, bookstore, galleries, coffee shop … Famous names as Simone de Beauvoir et Jean-Paul Sartre, Juliette Greco, are attached to Saint-Germain. Everywhere in the area, you can feel their presence. Go to the Café de Flore and imagine the Sartre – Beauvoir couple sitting next to the heating and talking with friends. In caves of Saint-Germain still resonates the sound of Jazz music and philosophical talks.
Choosing Saint-Germain-des-Prés is not only choosing a central location, it is choosing a Parisian experience as even Parisians love coming to Saint-Germain for a drink, a walk or for shopping. That is a place to be in Paris and you will not be disappointed by your choice.
How to choose your hotel in Paris ?
In Saint-Germain-des-Prés, there are many Paris hotels. 2, 3, 4 star… There is a large choice of hotels, luxury hotel, cheap hotels, …. Stars determine the amenities and so the rates. Are you looking for a hotel with a spa, a swimming-pool or a fitness room ? Let's book a 4 or 5 star hotel. For a comfortable room, mid-range rates, and nice atmosphere, lets opt for a 3 star hotel. Paris is an expensive city and 3 star hotels offer a good value.
Finally to choose your hotel, let's have a look at the reviews. Now it is impossible to ignore reviews online. Reviews are on the hotel website, on booking.com, trip advisor, google… Advice : read at least 10 reviews to have an idea of the positive and negative sides of the hotel. Furthermore, have a look at reviews from similar travelers. If you travel with your kids, check the posts left by families. They will have the same expectations than yours.
How to book your hotel in Paris ?
Now you must be aware of the different ways to book a hotel in Paris. Here are the best technique to have :
Let's go to a comparator website in order to find a hotel
Have a look at the reviews on Google, on a review website like Trip Advisor, and on the official website
Visit the hotel website in order to have all the informations you are looking for and compare the rates with other sites. Most of the time, best rates and conditions are on the hotel website.
Book your hotel directly on its website, by mail or by phone. Yes, it is still possible by phone. Furthermore, mail and phone are the first contact with the team you will meet very soon 😉
Just as a reminder, here are the advantages to make a direct booking :
Average prices are usually less expensive than on other websites
Conditions are more interesting
Special offers, hotel deals are only available directly with the hotel
It is always easier to contact the hotel team than a big website team.
Hotel des 2 Continents : your hotel in Paris
Let us introduce you our lovely 3 star Paris hotel, the Hotel des 2 Continents, located in the mythical Saint-Germain-des-Prés area.
Hotel des 2 Continents, a boutique hotel in the very center of Paris
Hotel des 2 Continents is a typical Parisian building with warm and comfortable atmosphere, and classic decoration. Parisian feeling of the area came through the door of the Hotel des 2 Continents. For 1, 3 or 6 nights, travelers come to Saint-Germain-des-Prés for business or for tourism. The rue Jacob is a quiet street located at two minutes walk from the Saint-Germain-des-Prés church, les Deux Magots et the Seine river.
Touristic attractions
From the Hotel des 2 Continents, prime location, you will access in 5 minutes walk to :
Seine river and the Pont des Arts
Louvre Museum
Place Furstemberg
In couple of minutes walk to :
Notre-Dame Cathedral
Orsay Museum
Place Saint-Sulpice
And by metro or bus you will easily get to :
Montmartre (bus 95)
Champs Elysées and Arc de Triomphe
Versailles (RER C)
Palais Garnier (Opera)
Transports around the Hotel des 2 Continents
It will not be too hard to come and to leave from the Hotel des 2 Continents as it is in the very center of the city :
Metro stations : Saint-Germain-des-Prés (line 4) – Mabillon (line 10)
Bus stations : 63, 86, 84, 95, 96, 39
Velib station : rue Saint-Benoit at 5 minutes walk from the hotel
Taxi station : on the Saint-Germain boulevard facing the Brasserie Lipp, 5 minutes walk (but we can call a taxi for you of course)
Restaurants and brasseries
Hotel des 2 Continents is lucky to be located in Saint-Germain-des-Prés as it is full of good restaurants and brasseries, which is an important point in a trip to Paris.
Here are some suggestions :
Au 35, a lovely bistro in the rue Jacob
Aux Prés, bistronomic restaurant in rue du Dragon
Wagenende, an Art Deco brasserie serving good sea food.
Rooms at the Hotel des 2 Continents
Hotel des 2 Continents offers accommodation options for 1 to 4 persons. Solo travelers appreciate their single room and the friendly reception team always smiling and pleased to assist our guests. Couples love the romantic atmosphere of their room and of the city of love. And families enjoy family rooms and connecting rooms. A family room has two large beds (140 cm) and one bathroom, while connecting rooms have 2 bathrooms, one room with twin beds and one room with king size bed. For your information, connecting rooms are located on the second or third floor with elevator.
Hotel is composed with three buildings, one of which has no lift. Rooms with only stairs access are named classic rooms and have one king size bed or two twin beds.
All the hotel rooms are equipped with :
free and speed wifi connection
daily maid service
heating and individual air conditioning
private bathroom with shower or bathtub, hair dryer, eco-labled amenities
tea and coffee facilities ( espresso machine only in Deluxe and family rooms)
flat screen tv with chromecast
blackout curtains
desk, …
For your information, you will not find mini – bars in our Paris hotel rooms because of our ecological engagement.
Hotel services for your stay in Paris
Breakfast is served everyday from 7:00 am to 11:00 am in the breakfast room with a buffet, or in the room (continental breakfast). Hot drink is served by our lovely waitress (expresso, American coffee, cappuccino, hot chocolate, …) and on the buffet you will find :
Orange and Apple Juice
French baguette, pastries, brioche and cakes
Crepes and maple syrup
Butter, honey and jam
French cheese
cold meat
scrambled eggs and sausages or bacon
fruits salad, fresh fruits
cereals, …
In the afternoon, you can order a drink and have it in the lobby or bring it to your room. Our beverage menu proposes hot drink and soft drinks. From noon, you will find a Nespresso coffee machine in free service for hotel guest in the lobby facing the reception.
Among services you will be glad to find :
Laundry service
Concierge services by reception desk
Shoe shine machine on the ground floor
Baby equipments (baby bed, laundry mat, high chair)
Iron and ironing board available at reception desk
Newspapers (Figaro in French and New York Times in english) every morning in the lobby
Book a Green key hotel for your sustainable trip to Paris
Hotel des 2 Continents is proud to to be a Green Key hotel. That means that our ecological approach has been rewarded and it gives us confidence that we will improve it.
Water and energy consumption, such as sorting our waste became our priorities. In every rooms of the hotel your will find a recycling bin, and in every bathroom, you will see eco-certified products in big recycling bottles. We also give weekly all the rest of our breakfast breads and pastries to the Hotelssolidaires association.
In the rooms, in our room directories, and on the ecotourism tab of our website, we give some tips to our guests in order to live a more responsible and sustainable trip.
What are the rates at Hotel des 2 Continents ?
At Hotel des 2 Continents, you will always have the best rates and conditions directly with us :
on our official website : www.hoteldes2continents.com
by email : continents.hotel@orange.fr
by phone : +33 1 43 26 72 46
Rates are the following :
Flexible rate with free cancellation until 24 hours prior to arrival
Best rate : the cheapest one. Non cancellable and non refundable with payment at reservation time.
Long stay offer for 3 nights or more. Non cancellable and non refundable with payment at reservation time.
All those rates are available with breakfast included.
Reviews from our guests
No surprise when you will read our reviews. Our rooms are typically Parisian and so they are as large as in the US. However, they are cosy and comfortable. Our friendly staff is very helpful, and we have an excellent location in Paris city center. Classic rooms have no elevator, but they are quite large and quiet because on the courtyard side.
Here are some of the last reviews posted by our lovely guests on Trip Advisor :
13th of September 2023 :
"Good hotel and great location

Reception staff are very welcoming and speak English. A nice buffet breakfast is provided. Our deluxe room on the 5th floor was nice and the bed was comfortable. The hotel is well located with dozens of cafes on Rue de Buci and Germaine de Pres within a ten-minute walk. About fifteen minutes away, tourists can get on a Bateau de Pont Neuf for a Seine cruise. The hotel is quiet and staff will store your luggage. There's also a comfortable lounge while you wait for your taxi."
12th of September 2023 :
"Comfortable Stay in Paris

We had a comfortable bed, clean,quiet room and when in Paris that's about all you can ask for. It is in a great location and staff was very helpful and they had a good command of English."
7th of September 2023 :
"Awesome trip

Thank you for all your help and friendly service and making our trip to Paris so memorable and even when I needed ice you are always stopped everything to attend my need. Thank you again . We will be back again and we will stay in your hotel again."
You can also read the reviews on our review tab.
Organize your trip to Paris 6th arrondissement
As we love Paris and as we want you to live the best moments of your life in Paris, we will give you some recommendations for your stay in Paris, and in our hotel in prime location.
First time in Paris
A first trip to Paris has to be magical. Here are the attractions you must see if you come for the first time in Paris :
The Louvre Museum is the most famous museum of Paris. In one day you will not see everything, and so we recommend you to choose the rooms you are most interested in (Egyptian era, large paintings, …). Of course do not miss the Victoire de Samothrace, and La Joconde.
Notre Dame Cathedral is not open to visitors yet but go and look at every details of the facade. That is a wonderful art work !
The Eiffel Tower, also called the Iron Lady, is very impressive. You can climb to the top or take the elevator. From the river, it is also very nice to see.
Montmartre and Le Sacré Coeur for a beautiful view of Paris
2 days 1 night in Paris
Spending a short trip to Paris can be nice as it is a lovely city break. And the good point is that you can do it many times in a year 😉 This is an idea of what you can do for 2 days and 1 night in Paris and in our nice hotel :
Having a breakfast in Thevenin bakery in rue de Buci, with their amazing "pain au chocolat".
Then let's leave your luggage at Hotel des 2 Continents waiting for your room and go for a walk rue de Seine. Take the charming Pont des Arts until the Louvre Museum and spend your morning in the culture temple.
Have a lunch at le Café Marly and then go to the Ile de la Cité and Ile Saint-Louis. On the Ile de la Cité, let's enjoy the incredible Notre Dame Cathedral and then take the bridge to the Ile Saint-Louis. Have a break and an ice cream at Berthillon. You will love the narrow streets of the island. Like an atmosphere of the old Paris…
In the evening, after theater or gastronomic restaurant (by Alain Ducasse, or Anne-Sophie Pic), let's come back to your quiet room at Hotel des 2 Continents.
In the morning, have a tasty breakfast in the breakfast room and go to the Place Furstemberg, so romantic, and visit the Delacroix Museum. For lunch, La Palette will be a good option. Then have a walk along the art galleries of the 6th arrondissement and the bouquinistes before leaving the French Capital.
4 days 3 nights in Paris
If you have time in Paris, you can take your time and miss unmissable and less known places.
Day 1
Have a croissant and a coffee at Thevenin after leaving your luggage at our 3 star hotel, the Hotel des 2 Continents
Cross the Pont des Arts to visit the Louvre Museum, or just a part. Have a lunch at Café Marly.
Go to Le Marais, la Place des Vosges, la Maison de Victor Hugo (a quick but interesting visit).
Come back through Pont Marie and have diner at Les Fous de l'Ile.
Day 2
Have a breakfast at Hotel des 2 Continents and be read to discover the Quartier Saint-Germain-des-Prés – Luxembourg !
Take the rue de Seine to le Senat and the Luxembourg garden. Have a walk between the queens sculptures, and have a sit on one of the mythical green chairs.
Then take the rue Soufflot to le Panthéon. What a nice visit ! Even in the basement, you will not be disappointed.
Facing the Pantheon, you will discover La Sorbonne university. Go to Place de l'Estrapade and Bistro de l'Estrapade for lunch.
Then just take time on Place de la Contrescarpe and rue Mouffetard. And spend the evening in the 5th arrondissement. There are many dining options such as Le Coupe Chou Or Le Petit Prince de Paris …
Day 3
Cross the river, have a look at Palais Royal and the Colonnes de Buren, and remember books of Balzac in that wonderful square.
Let's visit the Opéra Garnier (Palais Garnier), a breathtaking monument ! Have a lunch on the top floor at Lafayette Galleries.
Then walk through the Place Vendôme to the Madeleine Place and Champs Elysées with Arc de Triomphe. In the evening, let's go to the Madeleine theater or book a table in the 8th arrondissement.
After a long day trip, you will appreciate the smile of our hotel staff, our quiet street and your comfortable bed for a well deserved rest.
Day 4
Take a river boat and appreciate monuments of Paris from the Seine river (Orsay Museum, Notre-Dame Cathedral, Eiffel Tower …).
Let's take time to visit the Sainte Chapelle, that is an amazing place, and the Conciergerie just next door. You can also buy tickets for both.
Stop at a coffee shop on the island to have a Pain Perdu and go back home with sweet memories…