Paris… Is there a more romantic city than Paris? It would even seem that the city of love is made to receive lovers. So looking for a romantic evening idea in Paris is like looking for a needle in a bouquet of red roses! At the Hotel des 2 Continents, we guide you through the world capital of love and we give you advice, gift ideas and our favorite addresses for a great evening for two in Paris.
Paris, the city of Love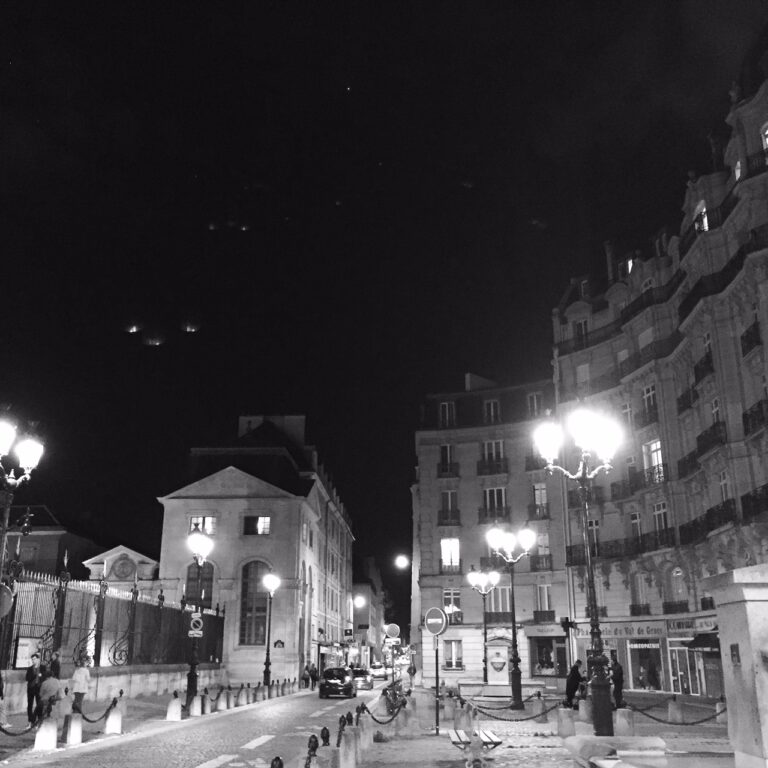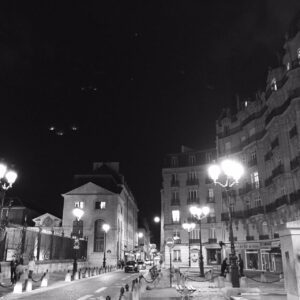 But of course, Paris is the capital of love, the place of "I love you forever" and memorable memories just for two. In Paris, we walk in love, we breathe love, and romance is expressed in every corner. Great writers like Victor Hugo, Émile Zola or Balzac have also chosen Paris as the setting for their stories.
How to surprise my lover ? 
If you want to surprise your lover, look no further! Give him Paris and a romantic evening! You know your lover better than anyone, so opt for an original activity, a nice walk or just your favorite hotel. Paris is full of ideas for a romantic day out, an evening alone or a romantic vacation.
Take the train or the plane without revealing the destination and prepare a little surprise on arrival. The hotels offer charming stagings of rooms. A message, a bottle of champagne, and rose petals for example…
Valentine's Day in Paris : the lovers day
What better gift idea than Paris for Valentine's Day? On this occasion, the restaurants offer special menus, the hotels romantic packages, and it is very easy to add an unusual activity to the Valentine's Day.
For example, rent a boat without a license on the Saint-Martin canal with a romantic basket. Stroll through Paris and enter the courtyards and secret gardens. What a great way to discover the city for two during a romantic stroll. And why not take advantage of Valentine's Day to visit the Museum of Romantic Life? For a moment of relaxation, book a couple's hammam or a whirlpool bath in one of the many spas in the capital.
Where to go out as a couple in Paris at night?
Have you decided to go out as a couple in Paris tonight or one evening?
The best romantic restaurants in Paris: good addresses
Every romantic stay consists of at least one romantic dinner. Gourmet dinner, Italian cuisine, or dinner – cruise, the choices are endless!
Gourmet restaurants for gourmet dining
Meet at the Maison Blanche restaurant, avenue Montaigne, for a gourmet dinner with a view of the Eiffel Tower!
Go further by reserving a table at Jules Verne located on the 2nd floor of the Eiffel Tower. Gourmet dinner with a view of all of Paris. Excellent setting for a magical evening!
Maxim's gourmet dinner cruise to admire Paris from the Seine river.
The Michelin-starred restaurant La Dame de Pic, a stone's throw from the Louvre Museum, is an excellent setting for your romantic dinner. The food is divine and the view of the kitchen is particularly appreciable.
Candlelight dinner and intimate setting
Le Coupe-Chou offers an idyllic setting for a romantic dinner with its fireplaces, woodwork and exposed beams. Small historical precision on the place whose walls date from the 14th, 16th and 17th century.
Monteverdi offers Italian cuisine in a lovely intimate setting. Perfect for a couple!
Music for love
Concerts for romantic evening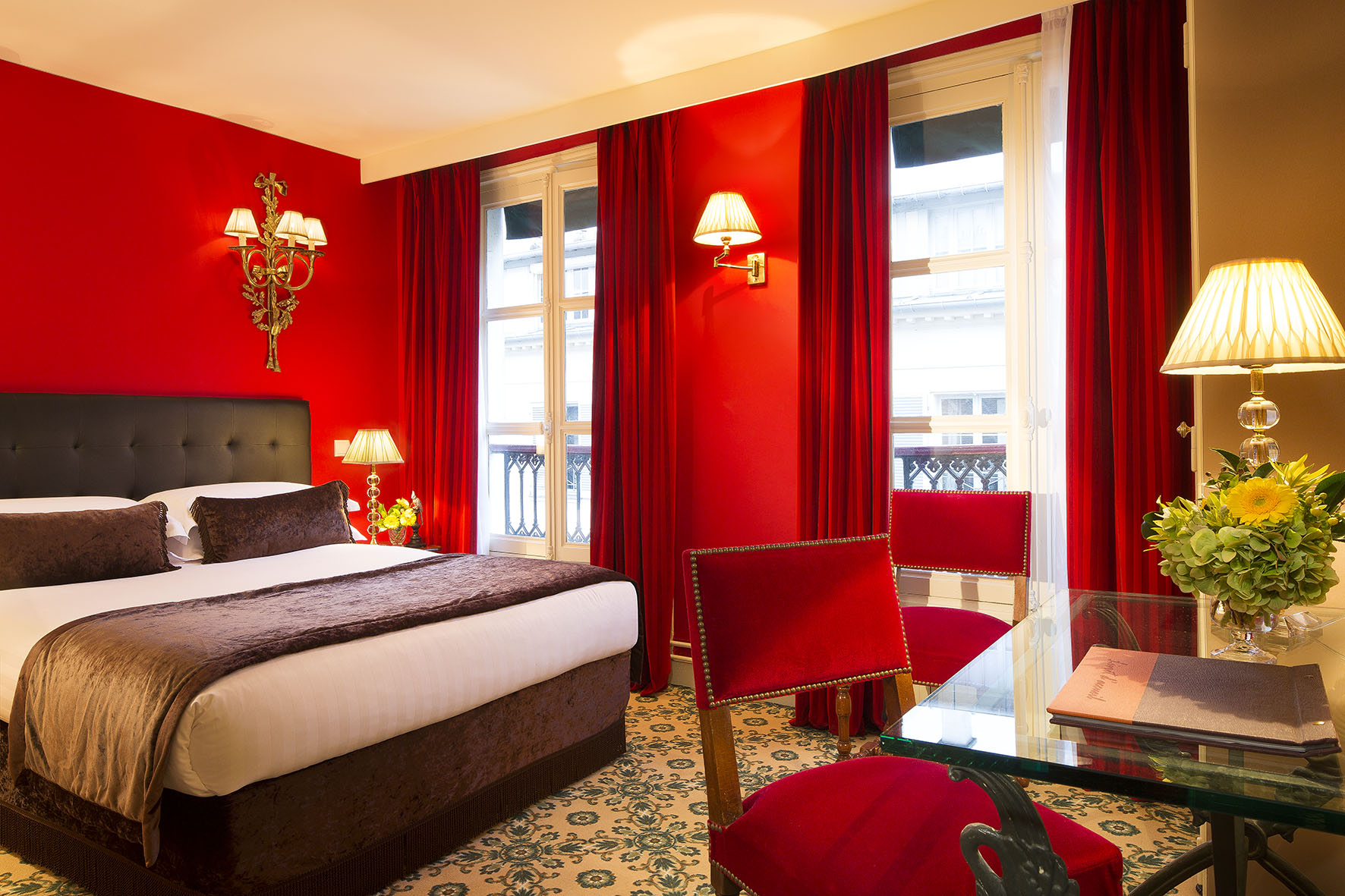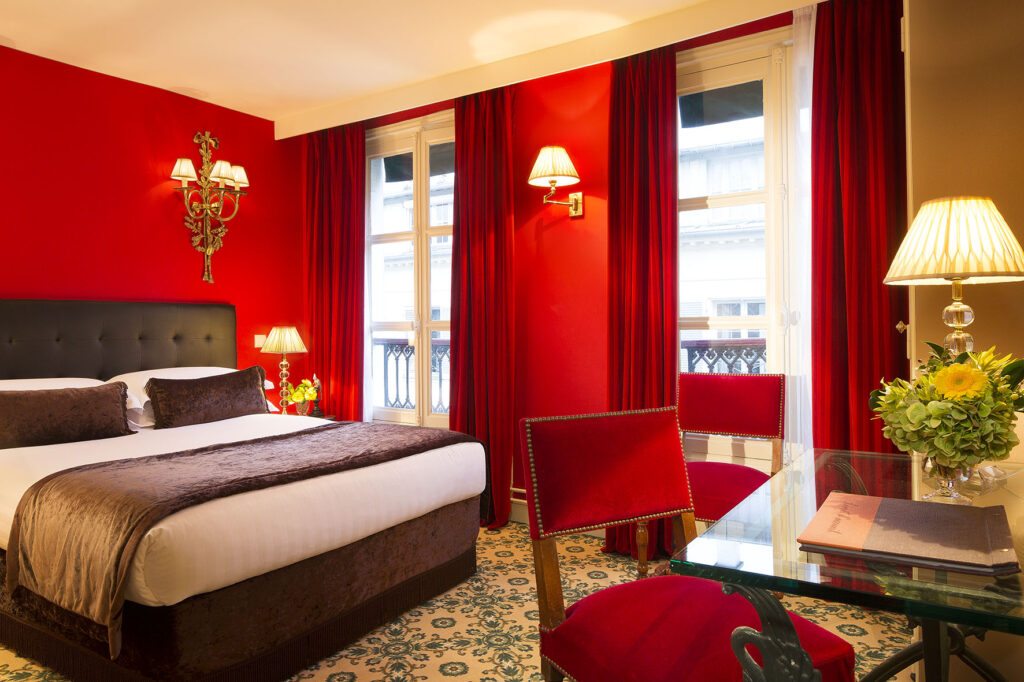 Sunset-Sunside : a jazz club in a vaulted basement to have a drink and listen to this romantic music.
Le Café de Paris V : cozy atmosphere in this piano bar where you can enjoy a glass of champagne to the sound of the piano…
Cabarets
Cabarets are a good way to combine gourmet meals and romantic places.
The Crazy Horse: an exceptional address! Dancers dressed in lights offer you a sensual and simply magnificent show!
Le Moulin Rouge: magical and mythical place of our beautiful capital, this old house, or rather this old mill, offers various acts in a subdued setting.
Idea romantic evening in Paris: how to make him spend an unforgettable moment?
If you want to make your lover or lover spend an unforgettable evening, follow us in the 6th arrondissement of Paris and discover one of our evening ideas.
Dinner for two in Paris 6
Book a table at a romantic restaurant like Le Christine on Rue Christine. Gourmet meal, revisited traditional French cuisine, and intimate setting in the heart of Saint-Germain-des-Prés.
Romantic show for a magical evening
For your romantic evening, pull out all the stops and take your significant other to the Paris Opera. Ballet or opera, whether at the Opéra Bastille or the Opéra Garnier, your evening will be exceptional. Put on your 31 and imagine yourself climbing the steps of the magnificent Opéra Garnier.
Splendid, this 19th century building, located in the 9th arrondissement, is an architectural masterpiece. In the evening, the lights give the place a wildly romantic dimension. Note that the Palais Garnier can also be visited during the day.
Romantic walk in Paris
Continue your evening for two with a pleasant stroll through the streets of Paris. When night falls, you will fall madly in love with Paris! The moonbeams gently caress the freestones of historic monuments and the reflections on the Seine enchant the Parisian bridges.
Parisian islands
Consider going to the Île Saint-Louis and Île de la Cité, the cradles of Paris. Notre-Dame Cathedral dominates the river and the Jardin de l'Archevêché. The Sainte-Chapelle and the Conciergerie are reminders that Paris is a city steeped in history and the kings who wrote it lived on the Île de la Cité for a long time.
Parisian bridges
Mythical, the Parisian bridges majestically connect the right bank and the left bank. The Pont des Arts is certainly the most romantic of them. Emblem of lovers, it welcomed lovers' padlocks. For a few years now, this has not been possible for reasons of bridge safety, but the Pont de l'Archevêché still bears the brunt of it. The Pont Alexandre III, facing the Invalides is a marvel that we owe to the Universal Exhibition of 1900. Gilding, gigantic sculptures, and barges below, to be seen day and night.
Night of love in Saint-Germain-des-Prés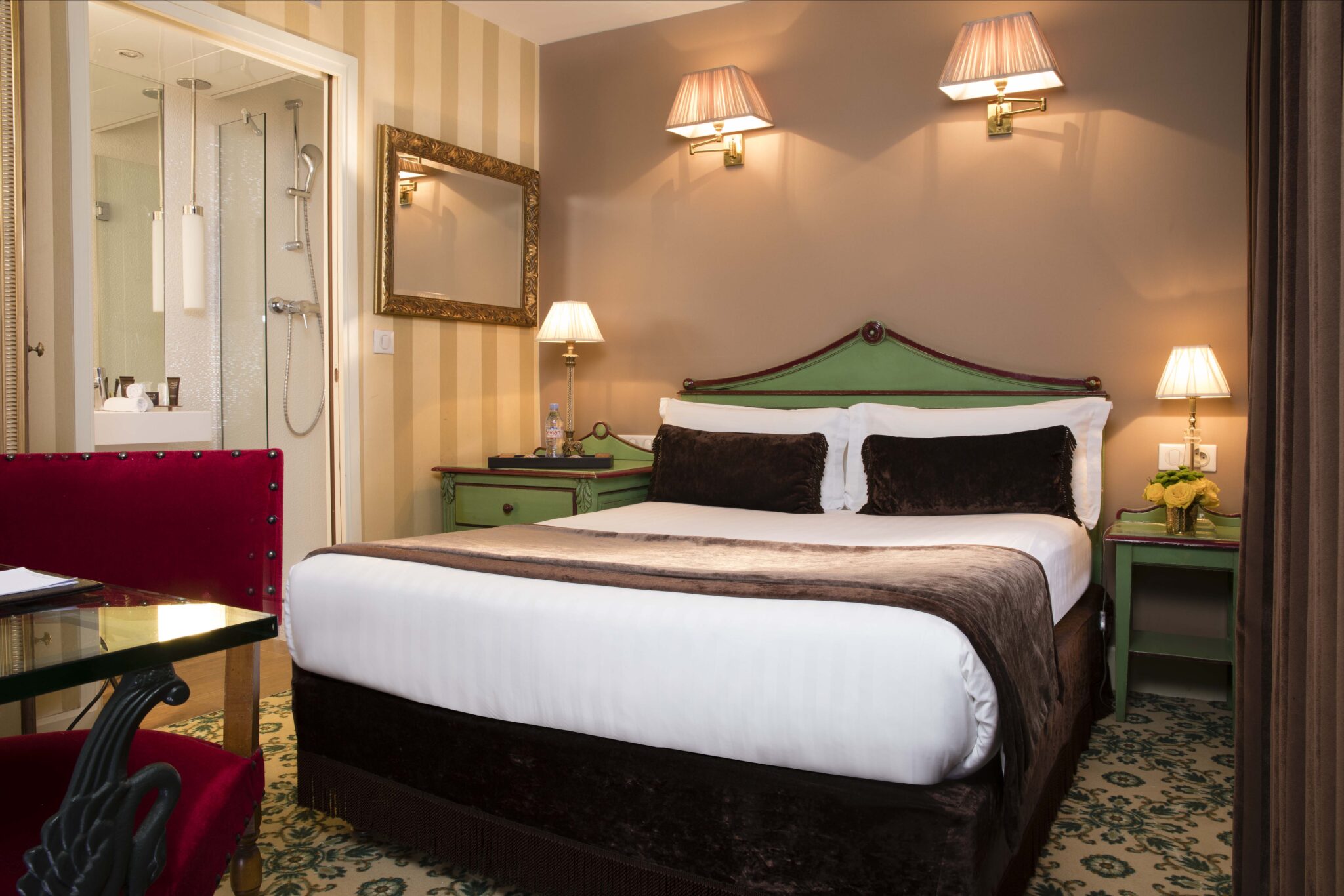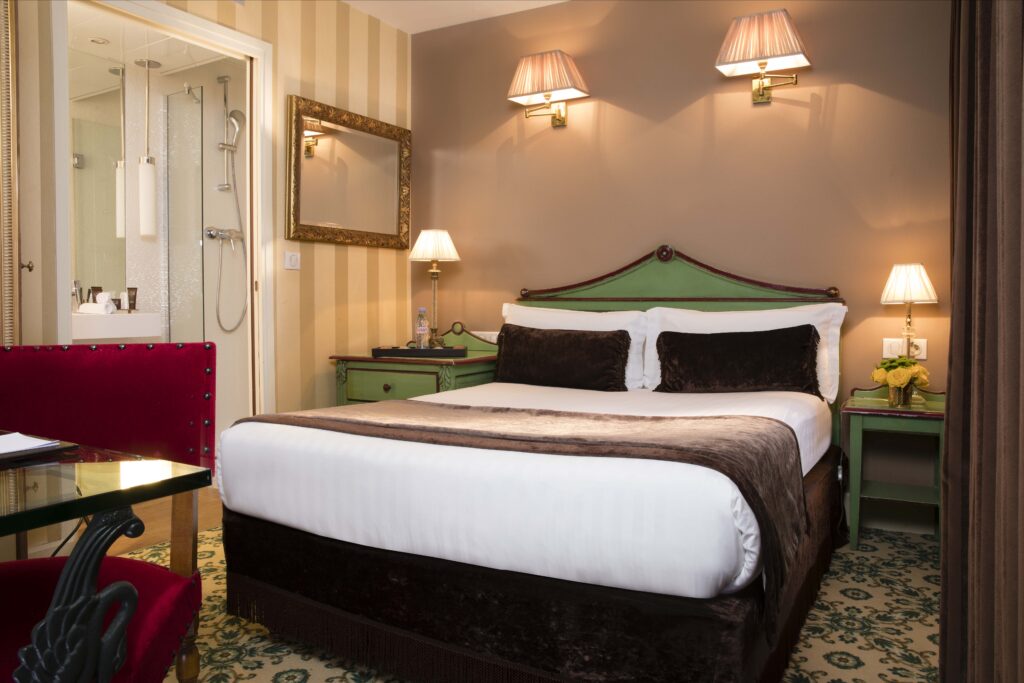 Finally, to perfect your romantic and Parisian evening, book a room in a charming hotel in the heart of Paris. The Hotel des 2 Continents, rue Jacob, a stone's throw from the Saint-Germain-des-Prés Church and the Pont des Arts, is a small hotel with 39 rooms, on a human scale and with a cozy and friendly atmosphere. Superior or Deluxe rooms for your stay for two! All rooms are equipped with:
Free WIFI
Courtesy tray and, for Deluxe rooms, a Lavazza coffee machine
Individual air conditioning
Comfortable and quality bed
Private bathroom with ecological welcome products and hairdryer
Office, …
A buffet breakfast is served daily between 7:00 a.m. and 11:00 a.m., but it can also be served in your room, in the continental version, to extend your privacy. The day after your Parisian night, enjoy Parisian gardens such as the Jardin des Tuileries or the Jardin du Luxembourg, a few minutes walk from the Hotel des 2 Continents.
See you soon at the Hotel des 2 Continents for your romantic night in Paris