You missed those moments to live together, those moments shared around a cocktail or to party !! And that's it, you have decided to go on vacation together and Paris is shaping up to be the perfect destination to meet you. But how to choose a hotel for a stay with girlfriends in Paris ? And what to do during your girly trip? The Hotel des 2 Continents gives you some ideas for outings, and welcomes you in the heart of Paris with low prices just for you !! 😉
What to do during a stay with girlfriends in Paris?
Art, culture and literature
Whether for a weekend or a stay of several nights, one thing is certain, you will not be bored in Paris! Mythical or lesser-known museums, temporary exhibitions, booksellers, openings, art is everywhere in the French Capital. A good plan ? Museums of the city of Paris are free on the first Sunday of the month and many places offer free access if you are under 25. Enjoy ! Stroll through the bookstores of the Latin Quarter, enjoy the current photo exhibition on the gates of the Luxembourg Garden, or even discover the artists of Place du Tertre, there is something for everyone!
Parisian life by day and by night
Going out with girls is quite possible in Paris, especially in the center. Many activities are offered all year round, day and night. During the day, consider having lunch on the terrace, going boating without a license on the Canal Saint-Martin or visiting the Catacombs. And in the evening, make your choice among wine bars, jazz clubs or barges on the Seine river. A good plan ? Prepare your aperitif basket and sit by the water in Square du Vert-Galant, for example. Very Parisian and so pleasant!
Wellness and shopping
A stay with girlfriends often involves a relaxing break and a shopping spree. On the well-being side, a spa like O'Kari is perfect with friends to relax and discuss gossip and the future. Why not spend some time lazing in the sun in one of the French Capital's many gardens, such as the Buttes Chaumont or the Arènes de Lutèce? A gastronomic break is always welcome with a very feminine lunch. Meet at Marcello on the terrace in Saint-Germain for homemade Italian pasta! Yum ! Consider strolling through the narrow streets of Saint-Germain-des-Prés on your way out. What a happiness! They will take you to luxury boutiques like Louis Vuitton or to rue de Rennes and rue des Canettes for more traditional shopping.
Who said a vacation in France couldn't be amazing and suitable for all budgets ?!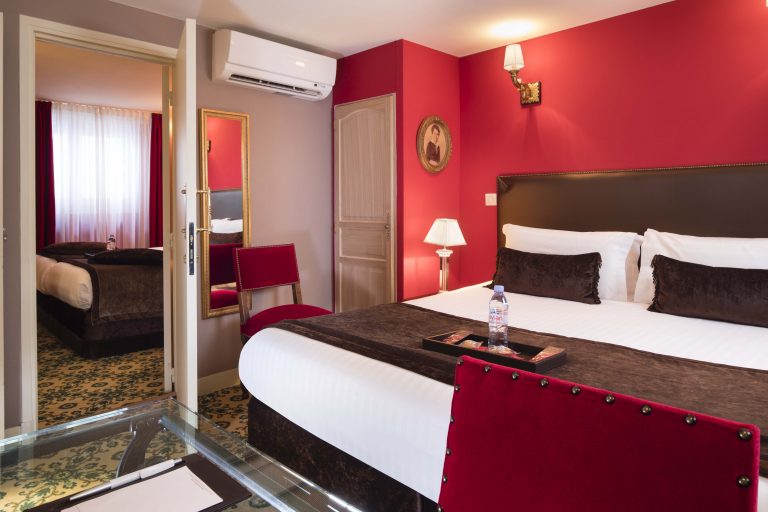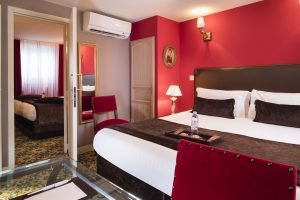 Choose a hotel for a stay with girlfriends in Paris : the Hotel des 2 Continents, deep heart of the city
Saint-Germain-des-Prés, the vibrant heart of Paris
By staying in Saint-Germain-des-Prés, you benefit from a very central location and the proximity of many tourist attractions: the Louvre Museum, the Sainte-Chapelle, the Panthéon, the rue Mouffetard,… And of course, the day and night life is particularly vibrant in Saint-Germain! Important point: it is possible to come home late feeling quite safe. But of course, in Paris, as in any big city, we recommend vigilance at all times.
The Hotel des 2 Continents, a great hotel for a stay with girlfriends
In the pretty rue Jacob, opposite the Ladurée shop, and a few steps from the Place Saint-Germain-des-Prés and the Louvre Museum, is the Hotel des 2 Continents. You will be delighted to learn that our establishment offers rooms for 1 to 4 people. For a stay with girlfriends, triple, family (for 4 people) or communicating rooms are excellent choices!
All the rooms are equipped with :
Free wifi
Tea and coffee facilities
Individual air conditioning
Private bathroom with shower or bathtub with ALGOTHERM amenities
Blackout curtains, …
Whether it's for a last-minute stay or an early booking, know that the best offers are always direct from the hotel: by phone, by email or on the official website. A good plan ? Book in the middle of summer as it is low season in Paris, or Saturday night and Sunday night, the latter is often cheaper. 😉
Click here to choose a hotel for a stay with girlfriends in Paris 😉