After the very special period that we have just experienced, the behavior of travelers has changed and hotels have adapted, in France as in the world. Indeed, it was customary to ask for advance payment for a hotel room reservation, but nowadays it is common practice to book a hotel in Paris without paying up front. As are the cancellation flexibilities or contactless payment. Let's take a look at these new practices and the new rates offered by the Hotel des 2 Continents. 😉
Why book a hotel in Paris without paying ?
Travel uncertainties
L'année 2020 a montré que les certitudes n'avaient plus lieu d'être en matière de voyage. Une réservation d'hôtel pouvait se faire en non annulable et non remboursable, tout comme le billet d'avion ou de train. Le séjour se ferait puisqu'il en était décidé ainsi. Aujourd'hui, nous savons que des événements exceptionnels peuvent venir bouleverser nos projets. Ainsi, il est tout à fait normal d'envisager une annulation de dernière minute. 
Book a room for another person
It often happens that the hotel guest is not the one who made the reservation. In most cases, payment is made on site by the person who occupied the room. This greatly simplifies the process since with a prepayment, it would be necessary to reimburse the card used when booking before requesting a second payment. Rather complex as a procedure!
Cash flow and budget
For example, for online hotel reservations several months in advance, you may not want to incur your expenses, which are always significant when it comes to accommodation, at the time of booking. Your trip is booked, but you will pay all related costs on site. This is the principle of "Book your hotel now and pay later". The method of payment can also be different on site.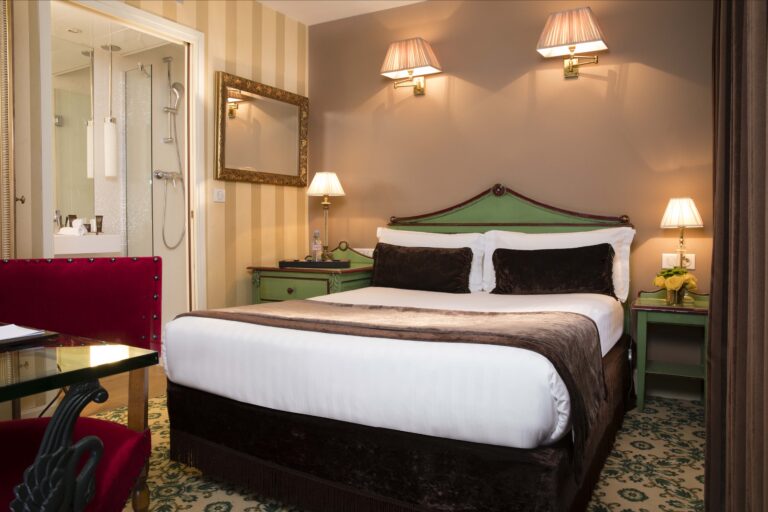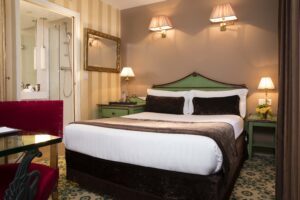 Book without paying at the Hotel des 2 Continents, Paris 6
The best option: The Hotel des 2 Continents, a 3-star hotel in the heart of Paris
In the center of Paris, a stone's throw from Place Saint-Germain-des-Prés and the main tourist attractions, is the Hôtel des 2 Continents and its 39 rooms with very Parisian charm. Warm welcome, 3-star comfort and an ideal location make our establishment a wise choice for your stay in Paris.
The rooms can accommodate 1 to 4 people and are all equipped with:
free wifi connection
individual air conditioning
courtesy tray with tea and coffee
private bathroom with welcome products
quality bed
flat screen TV,…
All the rooms are bookable without payment in advance.
Regarding hotel services:
A sweet and savory buffet breakfast is served daily between 7:00 a.m. and 11:00 a.m. in the breakfast room or in your room. The price is € 15 per person, as a supplement, and € 8 per child under 12 years old.
Luggage storage is available on arrival and departure.
A coffee machine is available for self-service in the hotel lobby.
The reception will be happy to give you all the information you need to make your stay run smoothly and to help you make reservations for restaurants, cabarets, taxis, etc.
Our friendly and professional team is available 24 hours a day to support its clients during your stay in Paris. With family, friends, on vacation or on business, the Hotel des 2 Continents will meet your expectations.
Booking without payment in advance
Since its reopening, the Hotel des 2 Continents has only offered rates without payment in advance. A credit card number is required when booking but payment will be made directly on site. For your information, it is not possible to book a room in our hotel without a credit card.
Choose the best offer among the new prices of the Hôtel des 2 Continents:
Ultra-flexible rate: no payment at the time of booking and free cancellation until 6:00 p.m. on the D-day
Flexible rate: no payment at the time of booking and free cancellation up to 48 hours before arrival
You have the option to book on the official hotel website, call the hotel reception or send an email to reserve rooms. You will need to use a credit card for your hotel reservation. However, it is not possible to make a reservation without a credit card. It is necessary for a small hotel like ours to have a guarantee. As there are many cancellations, we have greatly reduced the cancellation deadlines without charge, but after these deadlines, one night is charged. The conditions are the same for an online reservation on reservation sites.
It is also possible to book a room with the hotelier for the day if you wish to work from home or simply for day use. Just to clarify, we do not offer apartment or studio rentals. Please do not hesitate to contact the hotel reception on 01 43 26 72 46 for more information.
Book a hotel room without paying and at the best price right here …