That's it, you know that you will be going to the French capital soon and you are therefore looking to book a hotel near Montparnasse train station in Paris 😀. You are looking for accommodation close to your station and that makes perfect sense. Paris is a big city and it is always relevant to do a search based on a meeting place or even transport. Are you coming from Brittany or will you need to use transport in Montparnasse? Follow us, we will help you find your happiness …
Why to book a hotel near Montparnasse train station in Paris ?
Public transportation
Is your train arriving at Montparnasse station or, on the contrary, do you have to leave from this station? We fully understand your choice to sleep close by, especially if you get up at dawn. This will allow you to walk and avoid public transport, which is always nice when staying in Paris.
On the contrary, will you need to regularly use transport passing through Gare Montparnasse? Well, you do well to stay close by. This will prevent you from accumulating transport, train – metro – bus, which can be very tiring at the end of the day or even after several days.
Great area around Montparnasse Station
The surroundings of Gare Montparnasse are very pleasant. Boulevard du Montparnasse, for example, is full of legendary brasseries such as Le Dôme or La Coupole. Cinemas, theaters, bars, the part of the 6th arrondissement near Gare Montparnasse is very lively, day and night. The rue de Rennes, on the other hand, behind the train station, is an artery dedicated to shopping! It leads straight to the fabulous district of Saint-Germain-des-Prés.
Saint-Germain-des-Prés
A few minutes from Gare Montparnasse, is the well-known district of Saint-Germain-des-Prés. 2 metro stations, a bus or walking will take you to the train station in a very short time. You may be unknowingly familiar with this district so popular with Parisians for a day or for always. What if you are told Café de Flore? The oldest bell tower in Paris? Or the Place Furstemberg? And yes, alleys taken by Sartre and Simone de Beauvoir, art galleries, café terraces, history in every corner … Saint-Germain-des-Prés is a world apart. A very Parisian atmosphere between luxury and literature, art and shopping.
The great advantage of Saint-Germain-des-Prés is that it is located in the heart of Paris. A few minutes from Montparnasse, of course, but also very close to the Louvre Museum, the Ile de la Cité, or the Latin Quarter. By choosing this location, you will be able to quickly reach your train station but also fully enjoy the charms of the city.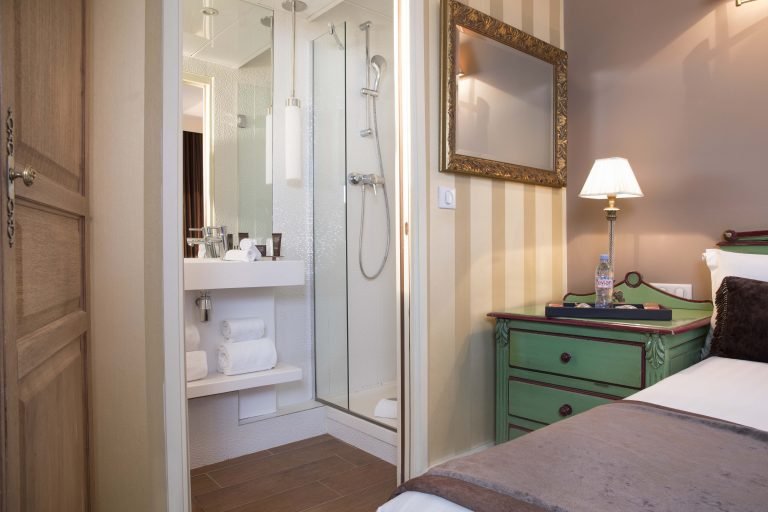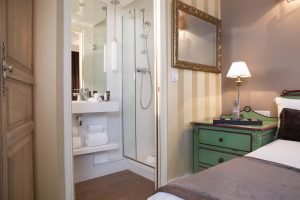 Hotel des 2 Continents, a great choice near the Montparnasse Station
In the quiet rue Jacob, a stone's throw from Place Saint-Germain-des-Prés and just a few minutes from Gare Montparnasse, you will discover our charming 39-room hotel, Hôtel des 2 Continents. It owes its name to the United States Independence Treaty signed in this same street.
Our team welcomes you day and night, with smile and professionalism, in rooms that can accommodate from 1 to 4 people. Attractive prices, flexible conditions such as free cancellation until 6:00 p.m. on D-DAY, or even breakfast with a freshly squeezed fruit and vegetable juice bar. So many assets for a stay in the heart of Paris !!
All are rooms are equipped with :
Free wifi
Tea and coffee facilities
Individual air conditioning
Private bathroom with shower or bathtub
Desk
Blackout curtains, …
Click here to book a hotel near Montparnasse train station in Paris 😉