Sometimes all you need is something unexpected, a sudden urge or just a setback and you want to spend the night in Paris. Of course, you wonder: how much does it cost to stay in a hotel tonight in Paris? Indeed, before considering returning by the last train or finding an alternative, you want to know if your budget will be able to survive a night in Paris. Well, the answer is yes! But it is important to know how the pricing works in the French Capital.
How much does it cost to stay in a hotel tonight in Paris? How the pricing works in Paris.
The law of supply and demand.
As in many areas such as transport for example, the hotel industry practices the law of supply and demand. Thus, if a period is very busy in the city such as during major events such as FIAC or Fashion Week, the prices will tend to be higher. Conversely, during quieter times such as in the middle of summer, prices will be at their lowest. 
The category of hotel.
In Paris, you will find many hotels from 1 to 5 stars. It is therefore obvious that you will not get the same rate in each category. If your budget is tight, choose between 1 and 2 stars. For an average budget, opt for the 3 stars. Then depending on the larger or smaller envelope, continue towards the 4 and 5 stars. 
The location of the hotel.
Paris is made up of 20 arrondissements. Some are more attractive than others because of their location, their nightlife or even their accessibility. Remember that the first 8 arrondissements will be a little more expensive than the others. But you have to judge the value. Isn't it better to pay a few euros more and enjoy Paris without transport, in complete safety and in a typical Parisian atmosphere? 
How to get the best rate for tonight? 
First, check the availability of the hotel and keep in mind that the hotelier only has one day to rent the rest of his rooms. So, if a hotel suits you with its location, reviews, and services, give it a call. Of course, you can make a reservation for that evening on the hotel's website, but there is no such thing as a conversation with a receptionist to get the best rate. Only he knows what the minimum rate he can charge is. It is even quite possible that he will ask for your budget to adapt. The only risk you take is having to make a second phone call to another hotel if the rate remains too high. In a few minutes, you get the best rate, room information, and initial contact with the hotelier. 😀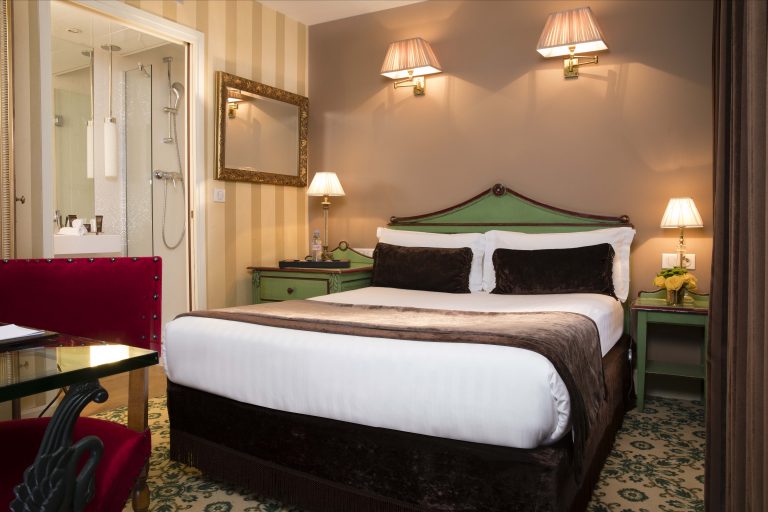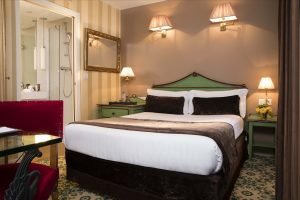 The Hotel des 2 Continents, excellent value for money in the center of Paris. 
Our charming 3-star hotel will be delighted to welcome you in one of its rooms for 1 to 4 people. Call our charming team on +33 (0)1 43 26 72 46. 
Located in the heart of the lively district of Saint-Germain-des-Prés, tomorrow morning you will be able to enjoy our tasty breakfast with its freshly squeezed fruit and vegetable juice bar. Then, you will leave for your meeting or quite simply you will walk the narrow and historical alleys of this literary district. The Café de Flore, the Deux Magots, the old bell tower of Saint-Germain or the Place Furstemberg… it's a safe bet that you will be back soon… 😉
Click here to book or just to check availability.