When you think of a night or a stay in Paris, you think of a double room for a couple, a romantic trip with dinner on the terrace and breakfast in your room. Paris is not only for lovers, on the contrary. Families, friends, colleagues,… There are so many reasons to go to Paris as a group of 3, 4 or 15! Today we'll talk about trios and triple rooms. And so how to find a hotel with triple room in Paris? And is it hard ? 😉
Book a hotel with triple room in Paris
Why booking a triple room ?
You decided to go to Paris at 3, and you want to stay in the same hotel, or even in the same room ? It is quite possible and it can be interesting for several reasons:
Traveling as a family with children: it is natural to look for a triple room for a couple with a child depending on the age of the child.
Traveling as a family without children: even without children, it is pleasant to share a room with members of your family, if only to discuss the past day.
Staying with friends: what a pleasure it is to extend the crazy Parisian day in your hotel room in the evening!
Save on the price of the room: It goes without saying that renting one room instead of two or three can cut the cost and keep the travel budget in the best possible way.
Benefit from more space: it is well known that Parisian rooms are not very large. Booking a standard triple room can be a good idea to enjoy more generous space even for two.
What are the amenities of a triple room ?
How to define a triple room? Quite simply, a triple room can accommodate three people. Equipped with three single beds or a large double bed and a small bed, the triple room offers more space, a larger bathroom, with towels for three people and hospitality products accordingly. The services and facilities are the same as in the double rooms but vary according to the type of establishment chosen.
Is it hard to find a triple room in Paris ?
The difficulty in central Paris is to find large rooms. Why ? Because in the center of Paris, the buildings are old and the spaces rather small. Thus, many establishments only offer single or double rooms.
The specific request for a triple room still gets answers, for example with the Hotel des 2 Continents in Paris 6. You just need to check with the hotel to find out if these rooms are available and to obtain the best guaranteed rates …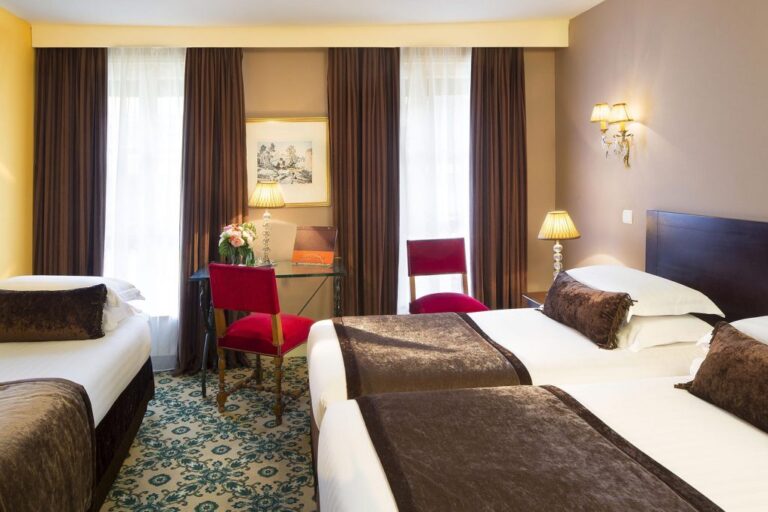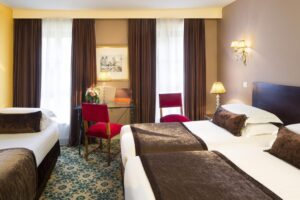 Book a triple room at the Hotel des 2 Continents
Hotel des 2 Continents in the deep heart of Saint-Germain-des-Prés
Located in the very center of Paris and in the wonderful district of Saint-Germain-des-Prés, the Hotel des 2 Continents offers you a particularly warm welcome. In addition to its smiling staff, you will find among the hotel's 39 rooms, family rooms for 4 people, connecting rooms and triple rooms.
The Hotel offers a buffet breakfast with freshly squeezed fruit and vegetable juices served daily between 07:00 am and 11:00 am. You can also have breakfast in your room. Children benefit from a special rate and a high chair is available for the little ones.
Triple rooms at the Hotel des 2 Continents
The triple rooms (more information here) with a very French decor, all have a view of the charming rue Jacob and have the following amenities:
Free wifi
Tea and coffee facilities
Individual air conditioning
Private marble bathroom with a bathtub, hair-dryer and welcome amenities
Flat screen tv
Desk and telephone
Blackout curtains, …
If you are staying with a baby, the Hotel des 2 Continents provides you with all the necessary equipment:
Baby cot (up to 2 years old)
Changing mat
Bottle warmer
Arrival is from 2:00 p.m. and departure until noon. The reception can store your luggage if necessary.
Click here to book a hotel with triple room in Paris 😉